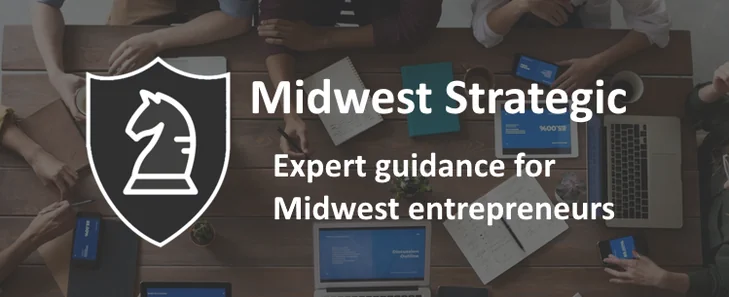 Midwest Strategic: Expert guidance for Midwest entrepreneurs
2022-12-09T12:37:35+00:00

Article Tags: #startups #guidance #entrepreneurs
---
Midwest Strategic, located in Eau Claire, WI, is dedicated to providing expert guidance and support to entrepreneurs and startups in the Wisconsin community. With a deep understanding of the unique challenges and opportunities faced by businesses in the Midwest, Midwest Strategic offers a range of services tailored to help businesses thrive and succeed. In this article, we will explore the valuable resources and assistance that Midwest Strategic brings to the entrepreneurial landscape of Wisconsin.
Midwest Strategic is more than just a consulting firm. With a strong focus on empowering local businesses, they offer a comprehensive suite of services designed to support entrepreneurs at every stage of their journey. Whether you're a small startup looking to establish a strong foundation or an established business seeking to expand and grow, Midwest Strategic has the expertise and resources to guide you through the process.
One of the key areas where Midwest Strategic excels is in strategic business planning. Their team of experienced professionals works closely with entrepreneurs to develop customized business plans that align with their goals and vision. By conducting thorough market research, analyzing competition, and identifying growth opportunities, Midwest Strategic helps entrepreneurs make informed decisions and set a solid foundation for their businesses.
In addition to strategic planning, Midwest Strategic also specializes in digital marketing. They understand the importance of a strong online presence in today's digital age. From creating search engine optimized websites to developing effective social media marketing campaigns, Midwest Strategic helps businesses leverage the power of digital platforms to reach their target audience and drive meaningful engagement.
Moreover, Midwest Strategic offers custom software and tools to streamline business operations and enhance efficiency. They develop tailored solutions to automate processes, manage data effectively, and optimize workflow. By leveraging technology and innovation, Midwest Strategic enables businesses to work smarter and achieve higher levels of productivity.
Midwest Strategic's commitment to the Wisconsin community extends beyond providing services to entrepreneurs. They actively engage with local organizations, networks, and events, fostering a collaborative environment that encourages knowledge-sharing and networking opportunities. By actively participating in the community, Midwest Strategic contributes to the growth and success of the entire entrepreneurial ecosystem in Wisconsin.
For Midwest entrepreneurs seeking expert guidance, Midwest Strategic stands as a trusted partner and valuable resource. With their comprehensive range of services, tailored strategies, and deep understanding of the Wisconsin business landscape, Midwest Strategic empowers entrepreneurs to overcome challenges, seize opportunities, and achieve sustainable growth. If you're looking to unlock your business's full potential, consider partnering with Midwest Strategic to embark on a successful entrepreneurial journey in the heart of the Midwest.
Contact Midwest Strategic today to see all they can offer!